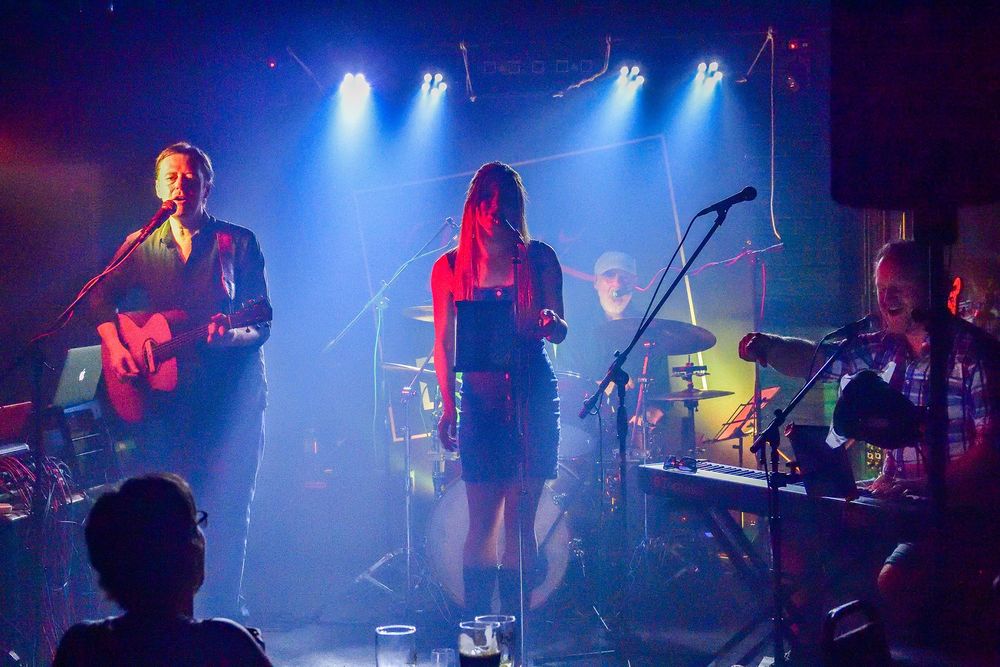 "

"We had a fantastic time and were so very impressed, you must all be very happy with how it went. We are the proud owners of your new EP, and I shall have it playing in the car later, just like that scene from Wayne's world!" (Pete D), "It was super to hear some great live music again - thanks for the invite and please update me on future gigs" (Andrew S), Fantastic gig - love the "hey" "ho"" (Mark A), "It was a magnificent evening. The music was outstanding!" (Wendy E), "It was a really lovely evening and the music was brilliant !!!" (Abbie S)", "What a great evening. Reminded me of our old Ronnie Scott's days!!" (Sue C)." - Various people attending The Station for our EP release party Thursday 19th August 2021
"

We were delighted to get such a great review from Shaun, manager at The Fighting Cocks "Thanks to @tayzandthedrolls for their amazing set.  Watch this space as we will have them back for a full set soon". " - Shaun, manager at The Fighting Cocks, Moseley, following our acoustic set on 23rd July 2021
"

"Highly experienced musicians - we will hopefully soon see Tayz & the Drolls back out on the road where they belong. Regarding their track "What Do You Want" - it's intriguing isn't it, very intriguing!"" - Alex Noble
"

Loved that, loved that! (regarding "Sometimes") Tayz & the Drolls, clearly influenced by Adele, Fleetwood Mac and Billie Eilish. Thank you for the great track ..." - Alex Noble
"

Just want to say again, how much I enjoyed the gig and the band's performance. Great chemistry between you all and I LOVED the originals (the covers were also great, but the originals were really special.)" - Jess S.
— Live gig at Joe Joe Jims, Birmingham, September 2019
"

Very cool hearing the progress the band makes from song to song.  Lovely tunes with some tasty drum parts! " - Jack J.  Professional musician
— Review of "Sometimes"
Tayz & The Drolls formed in Moseley, Birmingham in 2019, dedicated to creating great songs, based on meaningful lyrics, strong melodies and complex but interesting arrangements.  The band is led by the superb lead vocals of Kayt Easter with the experienced multi-instrumentalists Tauny, Chris and Steve creating a powerful and emotional sound.  Most of the songs come from Kayt's ideas and melodies, with the rest of the band creating the arrangements. It is really important to the band that the songs are meaningful and cover life's important themes of love, loss and finding our place in the world. 
The band have an eclectic range of influences, ranging from classical composers such as Bach and the originators of progressive rock including The Beatles, Pink Floyd and Jethro Tull.. With such a strong lead singer in Kayt, the band are heavily influenced by other amazing female artists such as Billie Eilish, Adele, Amy Winehouse and Florence & The Machine.  They are not afraid to experiment with many musical styles including Soul, Indie Rock, Pop and even Jazz.  
We record and write our music in our own recording and rehearsal studio (34 RR Studio) in Moseley, Birmingham, with all our songs engineered, produced and mixed by Ade, the fifth Droll.  Playing and performing is a key part of who we are and we are desperate to resume playing live gigs soon.  The band are all experienced and gifted musicians and enjoying showing what we can do by putting on a great performance.
Download your press kit here!
Enquiries - we will be happy to return your call!